For a classic variant, see A-10 Thunderbolt II
Detailed Information
Place of Origin
United States
Manufacturer
Fairchild
Role
Ground Attack Aircraft


Anti-Infantry
Anti-Vehicle


In Service
Active
Features
- 30mm Avenger Gatling Cannon


- Hydra 70 Rocket (x6)
- Forest Camouflage (Summer)
- Snow Camouflage (Winter)
- Sunburst Countermeasures


"Protecting America's skies."
- A-10 pilot's motto -
Currently serving as the USA's interceptor in the Task Forces, the A-10 Thunderbolt II have been utilised to take on enemy units in various ways. Its gattling cannon can take on enemy aircraft and infantry along with its Hydra rockets to assist in destroying enemy units; all-thou the aircraft was mostly utilised after 1977 and used in various wars throughout time, they were popular for their participation in the First Eurasian Conflict.
Early History
The Thunderbolt flown for the first time in 1972, first started service in 1977. A-10s first saw action during the Gulf War, they were popular mostly for its strafing; the plane taken down 900 tanks, 2,000 military vehicles, and 1,200 artillery pieces throughout the Gulf War when dealing with enemy units in Iraq.
Thunderbolts saw action in Afghanistan in 2001, didn't take part in initial stages until later on. They taken part in fights against terrorist groups in the country and taken on vehicles and groups across the location over time.
New Tactics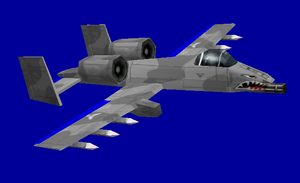 During operations which were related to snowy locations across the world, there have been losses which were related to regular aircraft lost.
To counter this problem, several A-10 Thunderbolts were given a new Snow Camouflage to blend in with snowy locations and possibly the sky.
These versions were mostly common at airshows and various parts when facing off enemy units, they will mostly attacking enemies in places like artic places and sometimes mostly in cloudy areas in the world.
Planned Retirement
Originally until 2028, the United States Task Forces were planning to replace the A-10 Thunderbolt II with the new F-35 "Lightning" II since its introduction in 2017. But due to the rising cost of the F-35 program and risks of taking a big leap back in terms of technology, the A-10 remained in service until further notice to save money and time, though joint co-operation with the Lightning made them more reliable together.
Behind the Scenes
Will keep its standard C&C Generals looks, but will have some modifications.
There will be possible chances of commanding this unit in Reign of Conflagration, it'll have an alternate model for snowy missions like the Chinese J-20 Black Eagle.
All US Military Sectors will have access to Thunderbolt via Missile Strike General Powers. General Malcolm Granger and his Ace Air Force Sector will have access to Thunderbolt as buildable unit to command it directly on the battlefield.
A-10 Thunderbolts will keep its abilities and weapons in the mod as Generals Power Aircraft.
Ad blocker interference detected!
Wikia is a free-to-use site that makes money from advertising. We have a modified experience for viewers using ad blockers

Wikia is not accessible if you've made further modifications. Remove the custom ad blocker rule(s) and the page will load as expected.