Not to be confused with World War II Supply Centers or Ore Refineries, used during the Cold War
Among various structures across the world, there has to be a Supply Center to help with the storage of supplies for war efforts when required. Hearts of bases have these facilities to help keep their war efforts for either world peace or world domination going, the buildings have known to be a key role in keeping a work force in the military factions rolling within in time.
They come many forms from warehouses to drop-off points, they are the main source to keep a faction's economy going as planned by their Generals; below is a list of Supply Centers which are currently being operated by the factions.
Supply Helipad
Commissioned by the United States Task forces for airborne supply delivery, the Supply Helipad is a structure which allows Chinook Helicopters to deliver $600 worth of supplies to these stations to fund the USA's operations against the GLRF, these structures allow swift fielding of Chinook helicopters whenever required, there have also been sightings of Combat Chinook helicopters from these facilities with fireports on the side and equipped with a 50. Caliber & rocket pods.
The Helipad was first used in the First Eurasian Conflict, currently to this day, they still serve the US-Task Forces to keep their income coming in as gold to ensure their survival against the GLRF and the Forth Reich's incoming attacks.
Units Built
The Supply helipad can set up their helicopter fleet to head out into the world and collect supplies within their areas of reach. Currently in the USA's fleet of airborne collectors are the following units:
| Cameo | Name | Description |
| --- | --- | --- |
| | Chinook Transport Helicopter | Transport and supply collector, the classic Chinook comes with great speed which can outrun a RAH-66 Comanche helicopter. They can collect $600 worth of supplies every run, there is also an armed variant fielded by General Malcolm Granger. |
Supply Center
Built for China's economic operations for both Eurasian Conflicts throughout the Peoples Liberation Army of China's involvement during the fights, Supply Centers are one of China's primary mainstay locations where they allow their Beijing Escort Supply Transports to bring and store supplies gathered by the PLA during both conflicts; But as the wars rages on between enemies of China and several enemies that cause trouble against them, supply trucks have been equipped with machine guns for safety purposes.
These facilities have been robust built than other supply facilities with bricks and cinderblocks, designed to last for an entire war when the Iron Dragon PLA is at war with any enemy personnel; Whilst working with the United States and Company forces, these buildings can help keep China's economy going smooth.
Units Built
The Supply Center allows construction of two types of supply vehicles used in their forces, the Iron Dragon PLA utilises their best vehicles within their forces, the Beijing Escort Supply Truck. A small and heavy version of the vehicle have been utilised.
| Cameo | Name | Description |
| --- | --- | --- |
| | Escort Supply Truck | China's best selling heavy flatbed vehicle utilised by several companies across the world and even within the Peoples Republic of China, when war broke out, China utilised these vehicles with light machine guns to defend themselves. |
| | Escort Heavy Supply Truck | Heavier versions of the Escort utilised by General Kwai of the PLA Tank Division. Equipped with a machine gun, transport more supplies, but slow and abit expensive than their smaller counterpart of the Escort vehicle itself. |
Supply Stash
Used to house supplies and fund Prince Kassad's forces. These facilities train Workers and Supply Trucks for bringing in materials required for the GLRF and they since the GLA's defeat, they lacked perfect defensive countermeasures for vehicles on the battlefield whilst Supply Convoys can get attacked by enemy personnel whilst on their runs, Kassad ordered all pilots of all supply trucks to build makeshift machine guns before setting out on their runs and salvage armour pieces if necessary if they are most vulnerable.
The Supply Stash was redesigned and rebuilt to ensure quality for all of the Global Liberation Resistance and therefore allowing more trucks to make their deposits after collection.
Units Built
Sometimes the GLRF can train workers if there is no Command Center around so they can rebuild. The Stash can be used to build Supply Trucks, they are powerful than China's Supply Trucks and come with a Machine Gun whenever required for self defense.
Cameo
Name
Description
Worker

In Times of the GLA, Workers were employed to build structures and fund the GLRF by collecting supplies from supply docks and piles of supplies found on the battlefield.

Workers of the GLRF now become equipped with better tools, Shoes and mine detection and removal equipment unlike the GLA supplied them during the first war.

Haynes Supply Truck

The Answer to the GLRF's to gather supplies on the battlefield, the new Haynes Supply Truck can carry around $375 worth of boxes to the GLRF's Supply Stashes and is equipped with an RPD machine gun which can allow the vehicle to defend itself from minor threats.

It is also fast due to a tinkered engine which can allow its operator to evade enemy vehicles, mainly tanks. At the same time it can salvage armour plating for it to last longer whilst out on the field, also it is good for light anti-infantry attacks if they get attacked during their runs.

Hauler Supply Truck

(Chameleon Cell Exclusive)

Mainly a basis for the old UME based Bomb Truck, the Hauler is a heavy supply truck capable of carrying a bigger load of supplies for primary operations within the Chameleon Cell, despite them being known as convoy vehicles the trucks have been targeted since they have been affiliated with terrorist forces.

These heavy transporters can be useful for various roles, all-thou it is the best if the UME Haynes Supply Truck isn't carrying required loads, all-thou it isn't armed with any type of defensive weapon it is known to be heavy armoured against enemy units, allowing them to get back to base if under attack.
Supply Facility
Supply Facility






A Supply Facility, consisting of buildings to blend in with scenery, maintained by Company Forces
Faction
Company of Liberty
Cost
$1500
Build at
N/A
Requires
Landsweeper
Consisting of Tents, A Hangar & a set of Housing Blocks for workers, the Supply Facility is the place where all Supplies are kept after collection.
This location also holds permits to build Supply Technicals and is to hold the workers who help house the Supplies to work here, all-thou it consist of tents for holding the stashes until further notice, they are moved to the hangar after waiting time for processing and to help bring income to the Company of Liberty.
Housing the Workers
All workers hired to work in these facilities have casual housing blocks with accommodation, including a Living Room, Kitchen, Bathroom, Basement, Bedroom and also many other technical gadgets of the 21st Century for entertainment and also proper housing in fair conditions as-long as they work in supply storage.
The collection and also helping the processing of the valuables inside the supply boxes; some who work at the Supply Facility can also acquire access to Supply Technical operation, which will allow them to fetch the supplies and bring them back to the facility without being destroyed in the process.
Processing the Supplies
In the Tents, the Supply Crates gathered by Supply Technicals are stored here, there are three tents which allow the storage of the crates while the workers grab them and bring them into the Vehicle Hangar to process them for Company usage to increase their size of their army and also help increase the income of the army itself, allowing Company Commanders stay into economical standards when on the battlefields.
Units Built
Cameo
Name
Description
Supply Technical

A fast combination of a Technical and a supply truck, this vehicle is fast than other supply trucks and can outrun tanks but it is weaker than other supply gathering units.

Like other half-tracked vehicles such as the Track-Miner used by the Forth Reich of Yuri, the vehicle is unfortunately one of the weakest vehicles in the entire faction.

Bronco Supply Transport

(Artillery Brigade exclusive)

Maybe not a much of an attack unit, but those cases were rumours, but what they don't know is that the are several Bronco Supply Trucks are equipped with light anti-aircraft launchers that their operators can use for self defense.

The trucks are known to be a light threat due to the rocket launchers they are equipped with, the operators know when to attack if they see any hostiles incoming.

Supply HEMTT

(Commando Brigade exclusive)

Secured through USTF mineral trades, M977 Supply HEMTTs are extensive supply transporters that can be used for heavy collection to keep the war machine going at extensive rates, they are capable of transporting around $600 worth of supplies unlike the cheaper Supply Technicals.

The truck is slower than regular supply transporters and also being defenseless, these HEMTTs must be defended at all costs to keep the war machine going at all times, but they also pack tougher armour plating unlike the Supply Technical to take enough punishment for ambushes and suprises.
Supply Control
To be added...
Supply Warehouse
Supply Warehouse






A Supply Warehouse mounting an artillery, known to be defending New Andes Armada supply zones
Faction
New Andes Armada
Cost
$1500
Build at
N/A
Requires
Surveyor

To be added...
MEA Supply Center
To be added...
Units Built
Depending on what country is on the field when the Middle East Alliance is in play, the countries that make up the alliance have their own unique supply truck to utilise when a battle breaks out in the Middle East.
Cameo
Name
Description
Stallion Supply Truck
The country's supply transporter, assembled by various manufactures including the country's Vehicle Factory Jabalpur, the VFJ Stallion is a primary transporter assigned to move supplies from docks and other warehouses to bases operated by India.
AIL Storm Light Utility

Based on the Jeep Wrangler III, the Israeli AIL Storm is a small infantry transport vehicle and a supply transporter, the vehicle is fast than enemy tanks and several scout vehicles including Humvess after several test runs for quick supply runs.

However the vehicle since its fast, does come at a price of armour. Due to the AIL Storm being light armoured it can be destroyed easily and only carry $225 in supplies, it is recommended to use 4 at a time.

Reptile Supply Truck

A transport vehicle used by Israel's armed forces, can be upgraded with an optional infantry transport package, the American M35 2 half-tonne cargo truck under the Israeli designation Reptile is specialised in harsh desert environments which can help out.

It can be a supply transport or an armed infantry transport, the vehicle can be built from the Supply Center after building a War Factory since it does come with armour and weapons. Unlike the AIL Storm it can carry $450 in supplies for heavy runs, with this it can be good later on.

Mallard Supply Pickup

One of the pickups used in the past as technicals for several factions which either specialise in terrorism or private military work, also being based off the known Hilux pickup truck, the Mallard is a version of the pickup truck which can handle the desert regions of the world.

Built by Rising Sun Motors, the Mallard is a fast, lightweight and cost effective heavy duty supply gather which can gather supplies at a fast rate when deployed, the truck can carry around $300 in supplies.

Unknown Supply Truck
To be added...
Vader Supply Truck
To be added...
Mobile Supply Center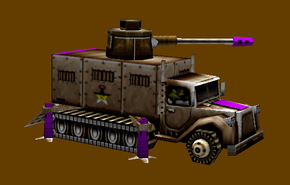 The
Forth Reich of Yuri
dosn't have any Supply Centers within their forces, their funding comes from well-trained combat and defensive workers with the well maintained Supply Miner.
An armed supportive and resource vehicle designed to be a mobile supply drop-off point, they are also equipped with a 90mm Rifled Cannon.
Track Miner Mobile Supply Center - Serves as the base for the Forth Reich of Yuri's main source of economic income, equipped with a rifled cannon to fend off their foes if under attack.
Behind the Scenes
These structures are important to all factions, serving as their main source of income as the wars wage on against their foes. But as supplies run low over time, they must find an alternate source.
The structures will either keep their standard model from the game, or will be updated later on as Reign of Conflagration progresses on.
Notice the missing conveyor on the US-Task Force's Supply Center and the GLA symbol on the GLRF's Supply Center, the USA's Supply Helipad will have its conveyor belt still ingame and the GLRF's symbol will be replacing the symbol in later versions.
Ad blocker interference detected!
Wikia is a free-to-use site that makes money from advertising. We have a modified experience for viewers using ad blockers

Wikia is not accessible if you've made further modifications. Remove the custom ad blocker rule(s) and the page will load as expected.