Home
Talk

10
421pages on
this wiki
Important!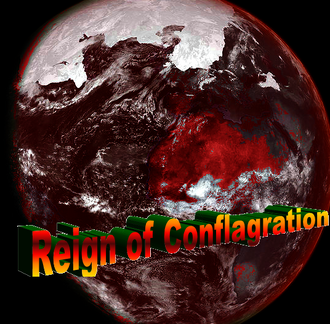 Reign of Conflagration has recovered mod files on a USB drive, development of Reign of Conflagration was recorded prior to the crash from the 15th of December towards today will resume development ingame as usual but for now all is needed is testers, if you want to be part of a tester for the modification before the mod before an upcoming release and meet the team behind RoC, a Blog Post will be created soon development.
Await for a blog post for additional updates on the mod, and its possible future.
Welcome to the Reign of Conflagration Wiki
Reign of Conflagration is a major modification for Command & Conquer Generals: Zero Hour which will feature various changes including a series of bug fixes & unique types of special features, including minor factions.
This mod features five new factions (stay tuned the fifth new faction), which will be mostly redesigned, more organised and including some overhauling of the Generals system for the main factions. Also, a new Boss Faction will be available to fight against in a re-designed Generals Challenge mode, the modification will also a series of minor factions which will fight along side either the sides of terror or freedom, also the storyline for Reign of Conflagration will be somewhere different unlike the original story in Generals Zero Hour.
If you want to have a look at the concurrent storyline for Reign of Conflagration' along with an overview of events of the mod, you can check them out in this link here.
Historic Conflicts
In the past, before the con-current conflicts and uprisings, there were many battles where the brave and fearless fought in many numbers, these included battles in Europe and South America.
Past Wars and Conflicts
One of the most biggest conflicts were the First Eurasian Conflict, this war was one of the most biggest battles ever thought in the world.
Ongoing Wars and Conflicts
Currently in the world, there are three ongoing battles between several forces; There are two wars which are currently part of the second continental war known as the Second Eurasian Conflict. These wars have been currently known to be still go on.
Possible/Rumoured Conflicts
Over the courses of several battles, there have been rumoured battles which may take on various forces across the world in the future.
Minigames
We also got some mini-games which will take place on several maps which include various situations that will put factions to the test, this includes capabilities of vehicles, structures and technology.
Factions
In Reign of Conflagration are along with three original factions four brand new ones, spamming all across the globe and highly influencing already unstable balance of the power. Along with them, there is several smaller factions, which are supporting the larger ones.
Factions
Minor Factions (Inspired by Red Alert 3 Paradox)
Historic Factions
Factions involved in World War II
Factions involved in the Cold War
Relations of all factions
Latest activity