Detailed Information
Place of Origin
Eurasia
Manufacturer
Mustang Off-Road Vehicles
Role
Siege Artillery


Advanced Anti-Vehicle
Advanced Anti-Structure


In Service
Active
Features
- Long-Range Mortar (x3)


- Off-Road Tires
- Lightweight Chassis
- Inexperienced Operator
- Unit Tracking System (Semi-Broken)


"This battle will be over"
- Buccaneer operator -
A replacement for the Ratfink Rocket Buggy, the Buccaneer is a crude built artillery vehicle using a chassis of the civilian version of the buggy equipped with a longer back with a set of mortar cannons mounted on a turret, with this the vehicle is equipped with six wheel chassis instead of four which also slow it down and allow it to be an easy target to enemy artillery, fast ground vehicles and aircraft.
But on the bright side it is heavy duty which makes it one of many deadly units within the GLRF's forces whilst protected by fellow allies and guards, these vehicles despite the light armour are good in groups which can be deadly to enemy forces along with easy destruction of enemy bases.
Design
To be added...
Service
To be added...
Second Eurasian Conflict
To be added...
Copies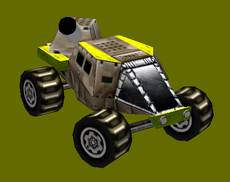 There are some possible units that also take inspiration from the Buccaneer, several reports in South America say that there are some vehicles similar to the Buccaneer.
Catapult - A copy of the GLRF's Buccaneer was found in South America, it is known as the Catapult, the Martollo's version of the artillery buggy. It can bombard several positions, but however due to use of the Panther-V Artillery.
After the introduction of the Panther-V Artillery, the Catapult even it was good at evading enemy vehicles at high speeds but it's downside of using the Catapult was light armour, the vehicle after the was placed into reserves or have been scrapped/sold to other factions due to the buggy was weak against everything.
Behind the Scenes
Buccaneers are the GLRF's one of many best friends in long range artillery, being additions to the faction's siege units replacing the Rocket Buggy.
Despite being a fast and lightweight artillery unit, Buccaneers can be easy targets to enemy artillery, ground units and with enemy aircraft, defensive anti-air along with good units will come handy defending the vehicles.
Ad blocker interference detected!
Wikia is a free-to-use site that makes money from advertising. We have a modified experience for viewers using ad blockers

Wikia is not accessible if you've made further modifications. Remove the custom ad blocker rule(s) and the page will load as expected.